The promotional flyer for "Katsushika Trio Live Tour 2022" is ready!
May 9, 2022
Latest concert news for Katsushika Trio (Mukaiya Minoru, Sakurai Tetsuo, Jimbo Akira)!
Starting from Tokyo at the Katsushika Symphony Hills once again, this year they will be adding concert dates in Hyogo, Fukuoka, Kumamoto, Ishikawa, Nagano and Aichi, for a 7-stop live tour!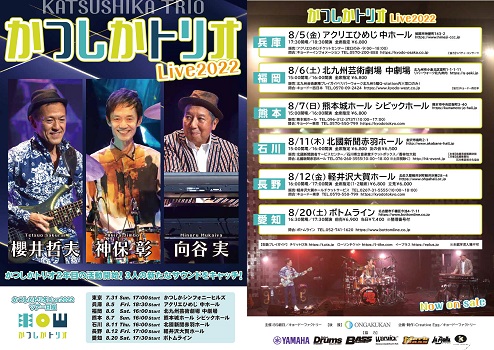 For details, please refer to the venues listed here.
Katsushika Trio Live Tour 2022 - Schedule
●Hyogo 【Arcrea HIMEJI - Medium Hall】
     8/5(Fri) OPEN 17:30 / START 18:30 (Tickets: All assigned seats \6,800¥)
     URL
https://www.himeji-ccc.jp/en/
     For info: KYODO information TEL.0570-200-888
●Fukuoka【Kitakyushu performing arts centre – Medium Theatre】
     8/6(Sat) OPEN 15:00 / START 16:00 (Tickets: All assigned seats \6,800¥)
     URL
http://q-geki.jp/ (Japanese language only)
     For info: KYODO west Japan TEL.0570-09-2424
●Kumamoto【Kumamoto-Jo Hall – Civic Hall】
     8/7(Sun) OPEN 15:00 / START 16:00 (Tickets: All assigned seats \6,800¥)
     URL
https://www.kumamoto-jo-hall.jp/en/
     For info: KYODO Tokyo TEL.0570-550-799
●Ishikawa 【Hokkoku Shimbun Akabane Hall】
     8/11(Thu/holiday) OPEN 15:00 / START 16:00 (Tickets: All assigned seats \6,800¥)
     URL
http://www.akabane-hall.jp/ (Japanese language only)
     For info: Hokkoku Shimbun Akabane Hall TEL.076-260-3555
●Nagano 【Karuizawa Ohga Hall】
     8/12(Fri) OPEN 16:00 / START 17:00 (Tickets: assigned 1st and 2nd floor seats \6,800¥ Standing \6,000¥)
     URL
https://www.ohgahall.or.jp/en/summary/index.php
     For info: KYODO Tokyo TEL.0570-550-799
●Aichi 【The Bottom Line Nagoya】
     8/20(Sat) OPEN 16:30 / START 17:30 (Tickets (General sales only): Advance sale \6,900¥ same-day \7,400¥ ※first come first served basis)
     URL
https://www.bottomline.co.jp/ (Japanese language only)
     For info: The Bottom Line TEL.052-741-1620
■ General Sales:May 10th 2022 (Tue)