Ongakukan's simulators will be used in Metropolitan Hotels' "JR East Train Simulator" experience room stay plans.
April 6th, 2022
Ongakukan's train simulators will be used in JR East's Train Simulator Experience stay plan offered by East Japan Railways group's NIPPON HOTEL Co., Ltd.
at 4 of their Metropolitan Hotel locations (Ikebukuro, Marunouchi, Kawasaki, Saitama-Shintoshin) as one of the activities planned for the "Railways 150th" anniversary celebrations.

The simulators that are being set up not only use the same video footage real drivers use for training, but the rolling stock equipment is also reproduced faithfully.
With the realistic operation and sound recorded in real life environments, and because it is offered by the JR East group, customers will be able to enjoy an authentic train driving experience during their stay.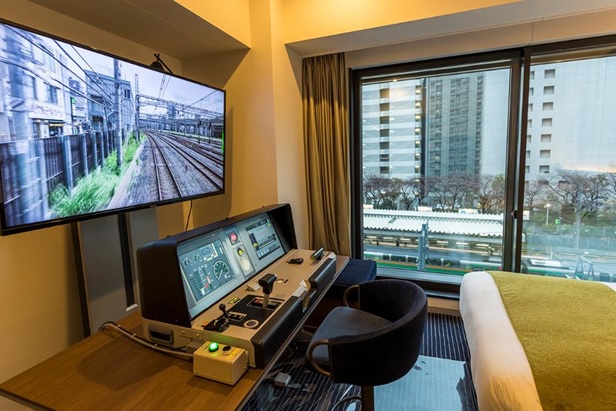 The room at Hotel Metropolitan Kawasaki (Source: JR East Group News)
About the "JR East Train Simulation Room" Plan
■ Plan period: April 5th (tue)~ September 30th (fri) 2022
■ Reservation start: April 5th, 2022 (tue) at 10AM
■ Hotels offering the stay plan: Metropolitan Hotels (4 structures) [Hotel Metropolitan (Ikebukuro), Hotel Metropolitan Marunouchi, Hotel Metropolitan Kawasaki, Hotel Metropolitan Saitama-Shintoshin]
■ Content and prices will vary depending on the structure.